Are you tired of searching for shoes that let you feel comfortable even after running or walking so long?
Here I want to share my FitMyFoot review after having a wonderful experience with this product.
Pain in my foot:
It was morning when I woke up and couldn't stand because of severe pain in my foot heel. I was thinking about what I did yesterday? And didn't get any glue. Last time the same pain I felt when I went on shopping and thought that the reason for this pain could be too much walk. This time there is no such reason.
Plantar fasciitis and doctor's advice:
I had an appointment with the doctor and just then I found out that the pain I am suffering from, is because of Plantar fasciitis. Mostly adults, runners, sportspersons, or athletes suffer from this pain.
I was told to focus on exercises and wearing proper shoes. Buying a shoe that is designed to reduce the pain in my foot heel is almost impossible because shoes are not made to treat pains.
I can easily find shoes that help in running or help in different sports activities but it was very hard for me to find shoes that are specially designed to treat my heel pain.
Searching for the right shoe:
According to a survey from 411 patients, the pain in the foot heels is the least effective even after receiving 11 different treatments.
I started exercising as per the doctor's advice but still, something was missing. I bought top-brand expensive shoes but couldn't feel comfortable in them too. After trying many top-branded shoes, I realized that the search for the perfect shoe is not possible as every person's feet are different, and ordering a shoe that is custom and reduces the pain in my heels is impossible.
FitMyFoot Insole:
After tiring of trying all the options I came to know about custom-fit insoles. I sent my measurements and received the perfectly fit insole in a few days. I still remember how I felt when I first wore them. These insoles are made to improve our comfort.
I gradually got rid of the pain in my heel cups. Now going for a walk or doing work that requires me to stand for so long doesn't bother me at all. I don't need pediatrics anymore. I also don't need to search for those expensive shoes with cushioning. Now I feel free to buy any kind of shoe I want.
FitMyFoot(WIIVV) is a 3D printed insole that is custom-designed and assembled in the USA.
It can be worn in any kind of shoes even in flipflop slippers also as they are custom made.
Through software stack technology, it is easy to take orders from the customers and produces the 3D printed insole according to their specific size. They can produce any type of imagery or 3D scans taken from any type of device like a smartphone or specialized 3D scanning devices.
TThese insoles include a cushion in them. The main problem in flipflop slippers is that they are flat that's why these insoles support the base of our body that is our feet by providing adequate support and cushion.
The material of the insole is nylon. The very soft nylon plays the role of cushion in your slippers to make you feel comfortable.
Why FitMyFoot Insole:
The main reason why we suffer from pain in the foot heel or why we get tired when we stand a little longer is the flat concrete floor. Our feet are created to walk on earth and grass, not for flat concrete surfaces. When we wear ill-fitted shoes and then walk on such flat surfaces we feel pain. That is why I think insoles are the perfect choice to reduce the pain in the feet.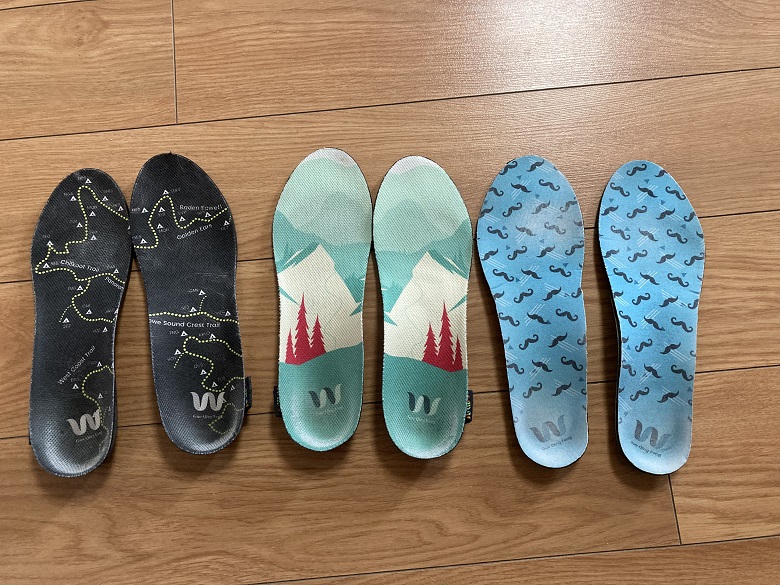 Here I want to share the two best reason why I prefer FitmyFoot insole over other insoles, heel cups, or expensive shoes:
Flexibility: FitMyFoot insoles are extremely flexible that allows our ankle to move smoothly with the movement of our feet that further helps to absorb shocks and changes in surfaces. This flexibility of the insole plays a very important role as it supports the arch of our feet. It reduces the force which we feel in our heel cup and ankle on every step we take.
Custom-made: Every person's feet have a slightly different shape but the design of every shoe is the same. How can we all wear the shoes that are made according to our arches of feet?
This is the main reason why I love to use FitMyFoot insoles. I can get the one that is custom-made and extremely comfortable for my feet.
How did I send my measurements:
When I ordered insoles for my feet I was wondering how can they send me the insole that will fit in my foot perfectly as they don't have my size? Well, that was not so difficult. After purchasing I had to download the app that was sent by them. I simply took the measurements of my foot using that app and got the custom-fit insole at my doorstep.
The best part was that I was free to send that insole back if it would've not fit perfectly. The app was amazing. It had complete guidelines to help us take the exact measurements of our feet. I took photos of my feet the way they guided me and got this perfect size easily.
Can go with every shoe:
The design of the insole is fitted to my foot perfectly but if rarely it does not fit with all the shoes I have, I can trim it easily.
Not only for the patients of Plantar fasciitis:
I was so satisfied with the quality of these insoles and ordered them for my son also. He needs them badly because he works at the store where he has to stand for so long. He is a soccer player also. He is not only doing his best during playing but he feels so comfortable while working at the store too.
Everyone can use these custom-fit insoles. It is not designed only for the patients but for everyone who needs to walk or stand for long hours daily. Old people, sportspersons, and people whose job requires them to stand for long hours, etc.